What is coronavirus (COVID 19)?
Coronaviruses are a family of viruses which can lead to people developing common colds and other upper respiratory tract infections when infected. COVID 19 is a kind of coronavirus which is causing people to develop much more severe illnesses than other coronaviruses.
What are the symptoms of COVID19?
The most common symptoms are fever, tiredness and a dry cough. People may also experience aches and pains, runny nose, blocked nose, sore throat and occasionally diarrhoea. Some people may not have any symptoms and in around 80% the disease is mild.
The chart below compares the common cold, the flu and COVID 19 symptoms.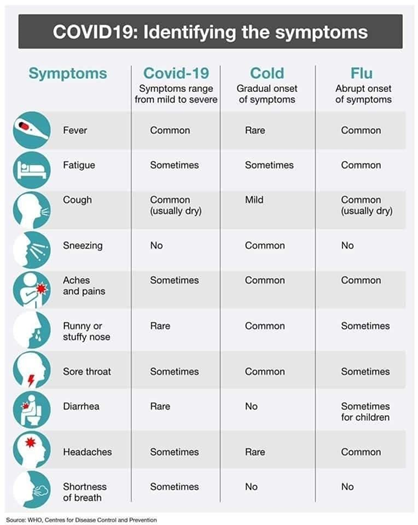 What does coronavirus (COVID 19) mean for people with Asthma?
Research does not suggest that people with asthma are at a higher risk of contracting the virus. The World Health Organisation (WHO) and the European Centre for Disease Prevention and Control (ECDC) state that moderate to severe asthma is a risk factor for severe illness of COVID19
How can I tell the difference between asthma and Covid19 symptoms
Symptoms of asthma and COVID 19. Patients with asthma are generally familiar with their symptoms of asthma, which can include cough, shortness of breath, wheezing and chest tightness. If there is an allergic component to their asthma, they can also suffer runny nose, sneezing and itchy or watery eyes. The main distinguishing symptom for COVID 19 is fever. However fever is also common with other viruses such as the flu. To make the lines even fuzzier, any viral infection can trigger a flare of asthma symptoms. If you have a fever, with flareup of asthma symptoms, testing may be the only way to figure out if you have COVID 19.
How can I protect myself from COVID19 if I have asthma?
Please follow public health advice, by staying at home, social distancing, avoiding contact with sick people and using proper hygiene.
Ensure you always have access to a reliever puffer and have spares at work and at home. It is important to know your asthma first aid procedure and ensure you understand what your asthma triggers are and how to manage these including your allergies. During this time it is important to educate your family and friends about your asthma and make sure they know your triggers and how to provide asthma first aid.
There have been concerns that steroids are contraindicated in COVID19, so what about inhaled steroids? People with asthma should continue the preventers to ensure they keep their asthma well controlled. There is no evidence to suggest that inhaled steroids cause worse outcomes in patients who have COVID 19. The advice about avoidance of steroids relates to the use of oral steroids in people who are infected with COVID 19, and hospitalised patients.
QUESTIONS?
If you are worried about something and have any questions regarding your Asthma during this pandemic, please do not hesistate to call our office and we can promptly organise a telehealth appointment with a Respiratory Physician.
Leave a reply